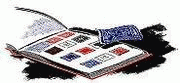 Welcome to William J Kozersky, Philatelist!

We are an internet based, global dealer of stamps and charity seals. We offer Christmas Seals, Foreign TB Seals, Easter Seals, Charity Seals, Charity Seal Literature, plus Foreign Stamps, Topical and Foreign Stamp Packets, USPS Souvenir Pages, Postcards, and other philatelic material. About our inventory, Grading, Catalogs ...

We wish that we could personally greet you at the door, as we would in a brick and mortar store. However, this medium prevents such a face to face meeting. Nonetheless, we invite you to look around and ask questions email. Bill, our owner, is a member of the APS, RPSC, CPC, CS&CSS, and the IPDA.

We stand behind our offers and will promptly refund if you are unhappy with your purchase. Global shipping with satisfaction guaranteed!
| | |
| --- | --- |
| We are located in Southern California, U.S.A. All of our business is conducted over the internet here, through our main store or boutique store listings at eBay. Our entire inventory is available here, our main store, or by phone. Our online store phone hours are 9am - 4pm, Pacific Time, Monday through Friday. We can be reached at: (714) 881-1157. | |
---
Customer service is our top priority. If you are dissatisfied for any reason, or we make a mistake, contact us right away, and we will correct the issue promptly and professionally. Your satisfaction is guaranteed. You must be completely satisfied with any stamp or collecting supply you order from us. Please visit our Return Center for further details regarding our easy return process.
---
We are members of the Internet Philatelic Dealers Association




As a member of the Internet Philatelic Dealers Association (IPDA), we are committed to upholding the IPDA Code of Ethics:

To always purchase and sell philatelic material at reasonable and fair prices, giving due consideration to prevailing market conditions and factors and any risk that may be involved in buying philatelic material;

To refrain from knowingly dealing in or holding stocks of stolen philatelic material; To refrain from knowingly dealing in counterfeit philatelic material except where the member has publicly and clearly stated that the item(s) for sale are counterfeit;

To provide buyers of all material with a written description which, to the best of the members knowledge, accurately and completely describes the condition, identification and specification of the items for sale;

To be truthful in all dealings with sellers and buyers and in all advertising and displays of philatelic material;

When requested, to give customers advice on philatelic matters which is to the best of the members knowledge, correct, and to refrain from making false or misleading statements, and to always refer the customer to another source of information, when the matter is not the members area of knowledge or expertise;

To publicly guarantee a full refund of the purchase price of any philatelic material purchased whenever a customer expresses dissatisfaction with the material supplied.

We have one exception, in that CD Catalogs are non-refundable and non-returnable. We will replace CDs damaged in shipping.
---
We have thousands of U.S. Christmas Seals & U.S. Spring Seals that are not yet listed. Send us your want list ...