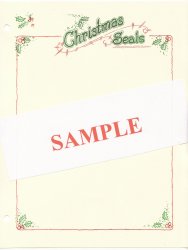 $7.75
Christmas Seal Stamp Album Pages, blank pages with color heading and border
Saint Crispen Christmas Seal Stamp Album Pages, blank pages with colorful heading and border, package of fifteen (15) sheets. All that is required is the addition of your seals, and an album cover.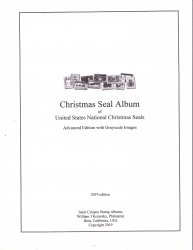 $29.75
U.S. National Christmas Seal Album, 1907-2019, Advanced Edition b/w images
Saint Crispen U.S. National Christmas Seal Stamp Album, 1907-2019 with black and white images. New, album pages printed on 8.5"x11" acid-free 80 lb. card stock. Forty-five (45) pages, provides spaces, with pale b/w images for reference and seal identification, as required, for singles, pairs, blocks, slogan and portrait blocks, booklet panes of 1918, 1930, 1931, 1939, and the 1938 deluxe pane, plus sheets of U.S. Christmas Seals.